The collection
"Visit any one of our properties and you'll discover that we are much more than simply places to stay. Our properties invite you to step inside and join us on an adventure. Experience each location in a fresh, new light. Each of our hotels and restaurants has its own unique character. All of them surprise and inspire."
- Daniel Hostettler
President & Managing Director
WATCH HILL, RHODE ISLAND
OCEAN HOUSE
a grand, coastal setting & uncompromising service
Perched high on the bluffs of Watch Hill, Rhode Island, Ocean House is an iconic New England seaside resort, and the first and only AAA Five Diamond and Forbes Five-Star hotel in the state. Ocean House's OH! Spa and restaurant are also Forbes Five-Star rated, making Ocean House a triple Five-Star resort, one of only 11 resorts in the world with this honor.

OH! SPA
With sweeping views of the Atlantic Ocean, the OH! Spa is the only Forbes Five-Star spa in Rhode Island, and among only 56 spas in the world to achieve the Five-Star rating. The 12,000-square-foot destination spa offers the best of the Ocean and the Harvest in a collection of seasonal treatments and products. Personalized spa experiences reflect nature's true elegance. An herbal steam room, indoor saltwater lap pool, state-of-the-art fitness center and professional-grade squash court make it one of the finest luxury spas in the country.

cuisine
From sophisticated fine dining to casual beach fare, dining options abound at Ocean House. Fresh local ingredients, world-class service and a farm-to-table philosophy harmonize to create a culinary experience unlike any other. A team of wine and culinary professionals welcomes guests to experience a unique selection of intimate epicurean events, tastings and immersive educational opportunities that invite active participation in the farm-to-table process.
accommodations
• 49 luxurious guest rooms
• 18 condo-style signature suites
• 5 off-site cottages, ranging from two-bedroom bungalows to sprawling 6,000-square-foot estates

HIGH SEASON ADR
$2,020
repeat guest clientele
42%
Weekapaug, Rhode Island
weekapaug inn
a summer home away from home
Originally built in 1899 and again in 1939 following the Hurricane of 1938, historic Weekapaug Inn underwent a $20 million renovation in 2012 that preserved its storied past while offering guests a wealth of modern conveniences.

Located on the Rhode Island shoreline overlooking Quonochontaug Pond, and the Atlantic Ocean just beyond, Weekapaug Inn offers an effortless combination of casual comfort and luxurious furnishings, farm-to-table dining utilizing the finest locally sourced ingredients, and inspired resort activities designed to create extraordinary guest experiences.
cuisine
From exquisitely prepared meals in The Restaurant, to freshly baked pizzas by the beach, cuisine is an integral part of the Weekapaug Inn experience. Chefs work closely with nearby purveyors to find and obtain the best in seasonal, locally raised produce, meat and seafood for an ever-changing menu.
accommodations
• 31 unique guest rooms complete with custom braided rugs, charming wicker furnishings and painted hardwood floors
• 4 two-bedroom signature suites with views of Quonochontaug Pond
• 1 off-site cottage
 
HIGH SEASON ADR
$895
repeat guest clientele
38%
watch hill, rhode island
Watch hill inn
classic coastal meets contemporary
Established in 1845, Watch Hill Inn carries with it a unique history marked by fame, natural disasters and, among all, resilience. Chic, minimalist decor intertwines with cutting edge technology like complimentary Apple TV, Netflix and an in-room iPad program that allows guests to order food and services to their door with the touch of a button.

Smart technology and historic charm intertwine seamlessly in the hub of the Watch Hill Village hustle and bustle. Each one of the 21 stylish suite-style accommodations are comfortably furnished and wired to meet your every technological whim. Eat and drink at nearby locations, or take advantage of unrestricted access to resort dining at sister properties, Ocean House and Weekapaug Inn.
accommodations & amenities
• 21 suite-style accommodations
• Unrestricted access to dining, amenities and resort activities at both Ocean House and Weekapaug Inn
HIGH SEASON ADR
$1,100
yoy revenue increase
21.69%
Lexington & Concord, at Boston
INN AT HASTINGS PARK
Immersed in History
Just 15 miles outside Boston, the Inn at Hastings Park welcomes guests to historic Lexington, Massachusetts, a community revered as the Birthplace of American Liberty for serving as the first battle site in the American Revolutionary War. The Inn is comprised of three thoughtfully restored antique buildings with 22 well-appointed guestrooms and suites, each with a unique design scheme; and a restaurant serving breakfast, lunch, dinner and tea service. The hallmark of The Inn experience, however, is the thoughtful service extended to guests which the team at The Inn at Hastings Park likes to call Revolutionary Hospitality.
ACCOMMODATIONS & AMENITIES
• 22 spacious guestrooms including 2 Barn Suites, 2 Parlor Suites and 1 King Suite
•Each guestroom has its own unique decor and color palette, with locally crafted design accents
LENOX, MASSACHUSETTS
BLANTYRE
Re-Imagining a Scottish Castle | 2017 - 2019
Blantyre, the first member of Relais & Châteaux in the United States, is an award-winning, Forbes Five-Star luxury resort, featuring 23 elegant guest accommodations, spa, dining and activities including tennis, hiking, croquet and much more.
A Tudor-style mansion and estate built in 1902, Blantyre is resplendent with antique furnishings, fireplaces, sumptuous fabrics and flowers. This elegant destination is set amidst 110 acres of lush lawns and woodlands in the beautiful Berkshires of Western Massachusetts.
OHM completely re-imagined the property for the next generation, maintaining its historic charm while updating the décor for the 21st century. Two restaurants were created where there had previously been only one – one a traditional French bistro, the other a multi-course tasting menu. Additionally, a basement storage area (which had housed a nightclub in the 70's) was re-imagined into the first Dom Perignon Branded champagne salon in the United States.
Partnerships with BMW, Serena and Lily, Dom Perignon, Hunter Boots, and De'Longhi Coffee Machines representing approximately $300,000+ in product placement as well as countless media opportunities for both parties were established.
A members-only club was created, and the spa was expanded from two treatment rooms to a five-treatment room destination spa and wellness center. OHM consulted on the design of a future development plan with the addition of 40 additional luxury hotel rooms, 24 cottages, and 12 estate home sites, as well as expanded ballroom and operations spaces.
OHM oversaw the rebranding of the website, collateral, social media, and video elements as well as an aggressive marketing, public relations and travel agent communications program resulting in $100M media impressions in the first year of our management.
In early 2019 ownership decided to self-manage the property.
Accommodations & amenities
• 23 luxury rooms, suites and cottages
• 2 fine dining restaurants
• Dom Perignon Champagne Salon
• Destination spa
• Conde Nast Traveler's World's Best Hotels 2017, 2018, 2019
Mystic, Connecticut
SPICER MANSION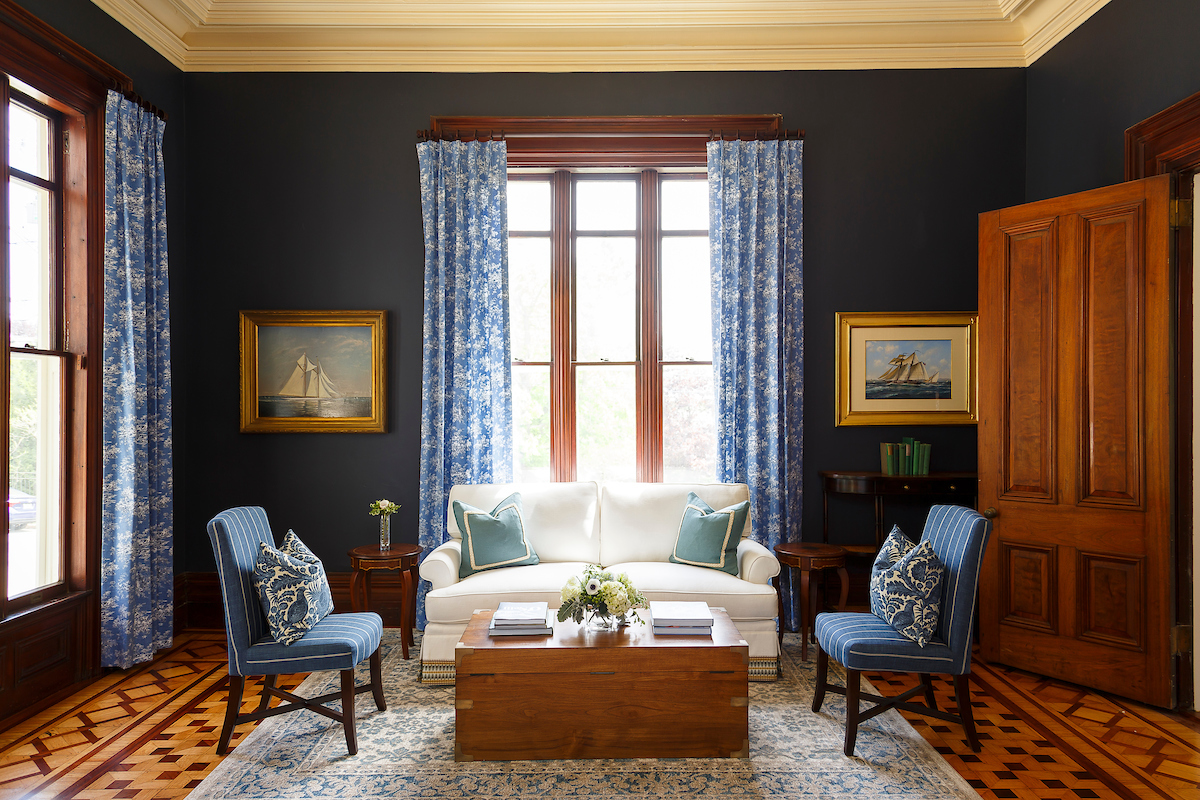 Re-Imagining a Historic sea captain's house
With commanding, sweeping views of the town, harbor and hills, Spicer Mansion has been a fixture in historic Mystic since 1853. Paying homage to the Gilded Age of refined hospitality alongside contemporary touches and uncompromising service, this luxury boutique inn offers eight impeccably appointed guest rooms, a world-class food and beverage program, including a fine dining restaurant exclusive to hotel guests, entertaining space and manicured gardens.
Historic Downtown Mystic, nestled along the banks of the Mystic River, is one of New England's premier vacation destinations. With a rich tradition as a waterside community, Mystic offers boutique shopping, restaurants and world-famous attractions.
OHM completely re-imagined this historic property, overseeing the final construction, design, landscape, and interior design through its OHM Design Group in 2016.
Partnerships were established with BMW to provide house cars for guest use, and a members-only club component was created.
OHM oversaw the branding, collateral design, social media and video elements as well as an aggressive marketing and communications plan which resulted in the hotel receiving Forbes Four Stars, entry into the prestigious Relais & Chateaux organization and a Conde Nast Hot List award in its first year of operation.
In early 2017 our management of the property ended.
Accommodations & amenities
• 8 luxury rooms and suites
• Multi-course fine dining salon
• Underground speakeasy salon
• Conde Nast Traveler's Hot List of New Hotels 2016